Business
Different Types Of Industrial Fans And Their Efficiency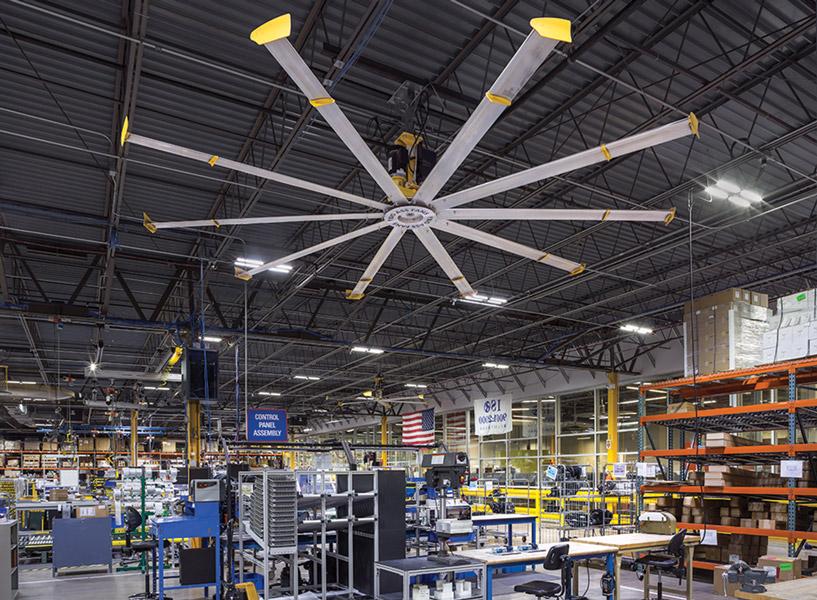 Industrial fans are categorically designed to cater to the air ventilation and circulation needs of manufacturing units, warehouses, and factories, among other commercial establishments with vast open spaces. A Commercial ceiling fan is necessary for warehouses for reasons best to enhance their efficiency, hence productivity.
The following are various commercial ceiling fans suitable for warehouses;
Titan HVLS Fan
Titan HVLS fan provides the widespread air movement facilities needed to help drive down operating costs year-round while keeping occupants comfortable and safe. Titan's direct drive motor technology is specifically designed for the HVLS market, making it quiet and energy efficient while providing the highest level of air movement. In addition, Titan's patented, structural-grade steel blade holder ensures a safe, secure fit at the perfect blade pitch every time.
Pair Titan with any of Hunter's digital, Power over Ethernet HVLS controller options to bring the most to any facility. Every Titan HVLS fan comes with an innovative Adjustable Downrod. This new telescoping design comes in three lengths, ranging from 2ft to 10ft.
Eco HVLS Fan
The ECO HVLS Fan is one of the perfect warehouse fans for any facility looking to keep occupants comfortable, productive, and safe at an economical price. With a direct-drive motor and blades designed by aerospace engineers, ECO provides quiet, energy-efficient airflow to match the demands of most applications.
 Exceptional performance, Plug-n-Play control technology, and lightweight components help to make ECO an effective way to improve almost any facility's environment quickly. Maintain a feature-rich solution by pairing ECO with any industrial digital Power over Ethernet HVLS controller options.
XP HVLS Fan
The highly efficient XP HVLS Fan is designed for cost savings, comfort, and hassle-free installation year-round. Engineered with a direct drive motor and industrial components, XP fans come with a 2′ rigid mount downrod while using the US supply voltage standard, 120V.
XP is the ideal option for tighter spaces like warehouses that need the benefits of HVLS but may not have the room for a larger fan or the need for guy wires.
JAN Fan
Jan Fan Industrial Air Circulators are some of the most trusted and energy-efficient commercial ceiling fan. Jan Fan has earned its reputation as the standard within automotive and heavy industrial applications by providing superior quality and outstanding customer service for over 60 years. Each fan is engineered for extended product life and ease of maintenance. Their durability has been proven over time and under the most rigorous circumstances.
Trak Fan
The Trak modern commercial ceiling fan collection works where guest comfort is as important as style and durability. Built with a commercial grade motor and extruded aluminum blades, Trak warehouse fans bring a long lifespan and optimal airflow to large, open spaces.
This warehouse fan is available in four sizes, three versatile finishes, and an LED light option to best fit your space's size, style, and lighting needs.
What Is the Importance of Installing Industrial Fans?
Installing warehouse fans allows one to focus on the other essential things in their business. Network-capable controls enable business people to schedule run times, speeds, and even the direction of a single fan or zones of up to 30 fans.
The controls maintain the simple "plug and play" connections Hunter HVLS fans have always had, plus it has taken the guesswork out of troubleshooting. In addition, the controls inform users of specific problems that may occur and allow for resets right from the controller – no longer need to access the drive for essential adjustments.
Upgrades the Warehouse
Customers typically count on their service provider for everything from timely production output to well-maintained containment. Employees look to their employers for a safer, more enjoyable work environment. Adding warehouse fans to the warehouse or material handling facility will quickly benefit staff, equipment, and production schedule.
As one works hard to keep their team on track, warehouse fans work to keep workers satisfied and safe. These fans and air circulators bring consistent movement to each space to reduce slick surfaces, deter pests and odors from settling, and create moisture control. The pickers, products, and equipment will quickly feel the improvements.
On colder days, the unique design of our fans will pull warmer air from the ceiling to create a better environment for workers and equipment while reducing heating costs by up to 30%.